Some loose ends needing tying.
Khemehekis

wrote:

↑

01 Aug 2019 07:54

A very Daine perspective, that!

Wow!

Is that surprising?

Not really, knowing the Daine, but I'm always surprised to be told (by you) that some thought process of mine is Daine.

Warms the heart, catching you off guard that way!
And I'm not sure how a moderate Democrat or a Republican would respond to my point about the stock market and the 18/16 discrepancy. I'm guessing that the Daine age for playing the stock market is higher than their age of consent (if the Daine even have a stock market).
No, Denê economies work rather differently. I'm not even sure if there is any kind of analogue to the stock market in Yeola. I know that money exists, and that (at least partially) money economies exist and that a form of banking exists. I know that instruments like hard cash (metal coins & stacks) exist, along with soft cash (paper) and also interest bearing cash-like instruments such as bearer bonds, treasury notes & credit notes exist. I don't think I've ever come across any mention of stocks, though.
It is of interest to note, that, while Denê might not be into stocks, those in Auntimoany are very interested in bearer bonds and treasury notes. Although it's illegal for them to hold Government obligations, this hasn't stopped the various Houses from acquiring these things. If only the Treasury knew how much actual money they owed to the Hidden Queen, they'd probably wet their britches.
Anyway, more like "if the Denê even have an age of consent" ;) but I digress! If there were a stock market, I'd hazard the guess that it would fall to the queen to determine if her clan or House would engage with it or not. It would then fall to her to seek for some suitably mature, intelligent, & crafty person to try and beat it. My guess is they probably wouldn't. The whole system is just too risky, there are no laws, really, to regulate such a thing and it would probably collapse all on its own without any Denê intervention at all. And just as well! Too dangerous a thing for Men to be messing around with!
This reads sort of as an Ithkuilesque speculation on how human cultures could function. And it all seems to make sense together.

If only they dìd work more that way...!
And that sounds so much like the remark of an INFP worldbuilder.[/quote]

And once when my sister was quite small, our family was reading a Smurfs book at beftime. She wanted to know how many Smurfs were pictured in the book, but they pretty much all look alike and so she likely counted a number of the same Smurfs multiple times. After nineteen Smurfs, Liz got to twenty . . . then twenty-one, twenty-two, twenty-three, twenty-four, twenty-five, twenty-six, twenty-seven, twenty-eight, twenty-nine, twenty-ten, twenty-eleven, twenty-twelve, twenty-thirteen . . .

French(-ish) after a fashion.

Yes! Like soixante-seize for seventy-six, or soixante-vingt-neuf for eighty-nine.
That had me stumped for a while.
Then it struck me: yeah! trois-vignts-seize ~~ quatre-vingts-neuf!
Maybe a bit odd --- I often, when having to count lots of little things, count them in French.
Well, I remember one time I was the subject of a tirade on the Internet by a Republican INFP. This was on the Howe & Strauss board, no less.

Oo, a proper tirade?

Is there some official formula for a "proper" tirade? If so, I'm unaware of it.
Yes. Given that your interargumentor was a Republican, a proper tirade should at some point call you out for being a Communist. Like how when it's the other way around, versa tiranda, the Republican gets called out for being a Nazi.
Not very sporting in either direction, I'll warrant, but that's tirades for you.
:snif: Sounds like Men to me. Daine are what give the medical colleges all the organs in bottles, thaumically activated anatomy skeletons and vivisection subjects.

Mind you, their donations are not voluntary.

How truly horrible. You know how I feel about non-consensual medical procedures . . .
Indeed.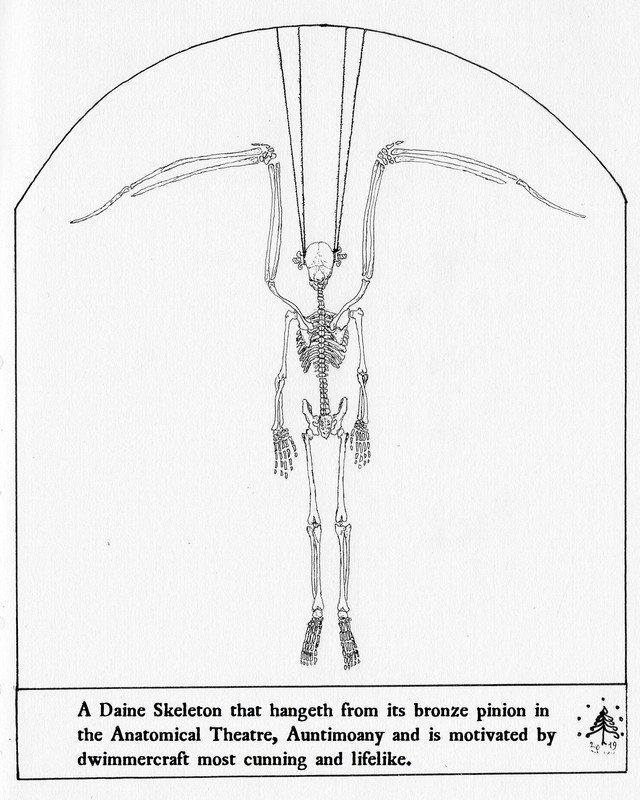 You get a nice view of this former Tana's thre-fingered wing-hands anyway! Not that that's much consolation for being doped senseless, having a thick bronze pin shoved through your head and then being dipped into a vat of corrosive licheworms while cunning spells of dwimcraft seize control of your bones. All that while you're still, ah ---
momentarily
, I assure you! --- alive.
In retrintrospection, this is probably a kinder fate than the poor sods that end up in the vivisection theatre. Their agony is prolonged to the greatest extent possible. Especially for a Tana caught early in the term, when the medical students are just doing skin and muscles and superficial studies. Most Denê, even the strongest willed, can't take much more than to survive much past the first month of the first term. The record, I believe, was close to ten weeks. Poor bugger developped a kind of resistance to the muscle relaxant concoction they dope their subjects with. His constant twitching and moaning got to be too much for the students. They just couldn't see anything clearly!, so the poor fellow got unceremoniously shifted to the practice surgery theatre where he died after a few days of too many bits being cut out.
Pretty much all of the parties are on board with the protect-the-environment agenda (despite the extreme techification of Bt!a), because that's the way it's been since the planet had to come to terms with climate change long ago. So a Green-type party would be superfluous.
Good.
Dare I say: that's very Denê of them!

Strong environmentalists, them.
(2-year old) children show no interest in (nor comprehension of) politics...

Understood. Well, I like 2 year old B!tachis already! No interest in or comprehension of politics! If only they could mould their entire society along those lines...

::Smiles:: Well, without government, they couldn't have confronted the monster of climate change. Which leads me to my concerns about the rigged debates in the Democratic primary: too many centrists Democrats like Joe Biden and John Delaney aren't taking the threat of climate change seriously; they're thinking like corporate-controlled politicians. As we saw with Hillary in 2016, New Democrats are afraid to be the Party of Big Ideas. And their cynicism about what's politically possible is putting the future of our one and only planet in jeopardy.
Without government, and all it entails, they probably wouldn't have been in the sophont-exacerbated aspects of climate change anyway. They'd only have the normal planet-mediated change to deal with, and even a government is powerless in the face of that challenge!
Re Dems. It's probably because they are corporate controlled politicians.
And you're right: they don't do Big (or Good) Ideas very well. But neither does the other side. Main problem: this isn't a political issue (it's not like the evolution of the planet's climate only affects some people but not others!), yet there doesn't seem, as yet, to be any way to meet the challenges without involving the Devil's handmaidens.
Maybe this pandemic thing will open up some possibilities. People are now becoming much more aware (again) of their social nature and communal existence, and how profoundly this can be affected by outside forces and how profound an effect our choices can have on that outside force. I am continuously encouraged to see how ordinary non-political and non-stunt-protester people of all demographics just organically materialise into a force to meet the challenge head on. This awakening new communitarianism (which is really just the 21st century resetting in several key ways to Way Things Used To Be (TM)) could be the force that ends up dealing with the man-made aspects of climate change.
These Greys drink blood, which fills both their food and water requirements. Such bodily fluids as phlegm, saliva and semen are enjoyed as snacks.

They must have some interesting milking machines to get rabbit snot...

Well, with rabbits, it's mostly the blood and corticosterine. Water buffalo snot is something, though! At least if you're Bt!achi!
Reminds me a bit of the practice of galactothurgy in The World. The notion that different kinds of milk have different fundamental properties and that drinking the milk of, say, a boar can instill mad recklessness, or that of a Daine can increase one's courage.
As for semen, there is a practice among pregnant Turghun who will drink semen. They believe semen will nourish the child. I don't think their mates would complain too much at being milked!
Lovely story! And here's a true story of mine: I dreamt I was reading a review of Kankonian, and the reviewer noted, in analyzing how beautiful Kankonian phonaesthetics were, that the word for bar (in its musical sense) was varoivu. I didn't remember that! When I woke up, I checked, discovered that Kankonian did not yet have a word for "bar", and made varoivu the word for bar (in its musical sense).
Excellent!
Re the tween oriented story I mentioned working on last time we spoke: that's now
done & published
! Happily, all my 11 & 12 year old test readers enjoyed it, though, naturally, the 12 year old glossopoet complained that I neglected to offer a pronunciation guide for the Queranarran (& other language) words, so I added that before publication.
Re the Sexuality of Denê, a topic I haven't discussed publicly except for some basics, I've been thinking a lot about that part of our earlier conversation. You had lamented "No, I think what's really a travesty is that none of the Daine are bisexual! We need bisexual Daine, lesbian Daine, gay Daine, asexual Daine, transgender Daine, genderqueer Daine! Oh, and please make one of your Daine agendered or bigendered!..." So I have something approaching an answer now, well, have had it for a while actually. But before I go there into that bear's den, I'll ask you for your immediate, gut reaction. What's going on here...if you saw these two fellows on the street, what would be your first impression?